August 2023: Home Price Index
High mortgage interest rates continue to have a significant impact on the property market, along with a decrease in the rise of housing prices to levels not seen since 2012. The most recent developments in the housing industry as of August 2023, as well as how wage growth will effectively boost property sales in the coming years.
The latest data from the Land Registry reveals that the average house price in Wales is currently £213,400. On average house prices in Wales had an annual 0.5% change in house price over the last month. Over the last year (last 12 calendar months) average house prices in Wales increased by 1.8%.
Higher mortgage rates have a negative impact on home market activity
The housing industry continues to endure the weight of rising mortgage interest rates and the pressing load of rising living expenses. This combination of circumstances is resulting in decreased interest from potential purchasers, resulting in a decrease in sales activity and a significant slowing of house price increase.
Zoopla's research of the House Price Index for August 2023 demonstrates that the activity in the housing sector is far lower than the standards set during the pandemic years, although more closely corresponding with the measures from 2019.
Buyer demand has fallen by 34% in the last four weeks when compared to the average demand observed during the previous four-week period spanning 2018 to 2022.
The number of successfully completed property purchases has decreased by 20%. The present market has witnessed an increase in available homes for sale, thanks in part to a previously controlled supply over the last two years, which has contributed to reducing this overall fall.
The cost of homes in first-time buyer markets are keeping consistent.
The variation in house price increases witnessed across the United Kingdom can be attributed in part to first-time buyers' ability to make purchases under increasing mortgage rates.
In any given year, first-time home buyers account for one-third of all purchases, with a sizable proportion of them moving up from rental housing. As a result, the affordability gap between renting and owning has an impact on renters' desire to shift into homeownership.
Lower mortgage rates in previous years resulted in a scenario where monthly homeownership expenditures were significantly lower than those of renting. This situation encouraged a strong presence of first-time buyers in the market, allowing many to purchase bigger residences with three or more bedrooms.
With mortgage rates hovering around 5% and above, the cost dynamics have shifted, making renting around 10% more affordable than purchasing on an average basis in the UK, regardless of recent significant increases in rental expenses. As a result of this change, the pool of potential first-time buyers in the market has narrowed, putting a hold on the upward trend of housing prices.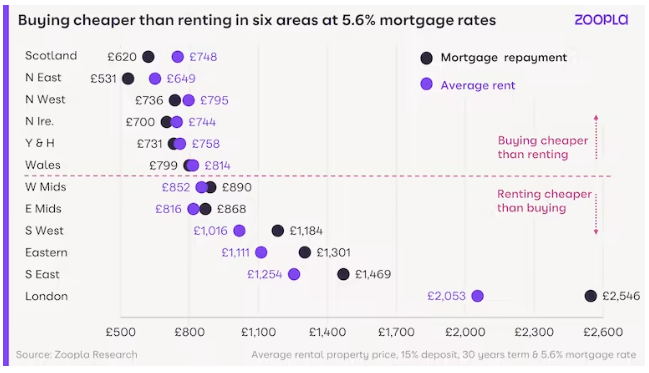 Prospective first-time homebuyers face vastly different circumstances in different parts of the United Kingdom.
For those who currently rent and are thinking about buying the home they currently live in, economic feasibility favours owning over renting in the six regions and countries surrounding the UK with the most cheap housing prices. James Douglas can assist you with finding the perfect home at the perfect price. 
In 2023, 21% fewer home sales are projected.
Despite a rapid slowing in the speed of house price growth over the last year, the primary effect of rising mortgage rates has been a decrease in the volume of property transactions.
Zoopla's House Price Index methodically tracked the number of 'sold subject to contract' dwellings. When compared to the previous year's figures, this count has decreased by 21%, despite our current projections indicating that nearly 1 million property completions will be completed by the end of 2023.
This estimated figure would be the fewest number of property transactions reported since 2012, comparable to each household relocating once every 23 years.
Traditionally, the average time period for relocating in the United Kingdom is thought to be 8 years. The new extension in this timeframe demonstrates the enormous effects of recent financial crises on home market dynamics. James Douglas is here to help you sell your house and will be with you every step of the way to find the best buyer for your needs.
What is expected in the housing market next?
Predictions for the next 2-3 years show a large increase in the number of property sales.
Several variables, including the increased popularity of flexible work arrangements, demographic trends induced by an ageing population, a strong labour market, and significant immigration, all contribute to this hopeful picture.
In terms of mortgage rates, there is a clear decreasing trend, with a decrease below 5% expected later this year. However, depending on financial market judgments of the appropriate interest rate adjustment required to properly manage inflation, this adjustment is projected to be gradual and lengthy.
It should be noted that any mortgage rate reductions are unlikely to have an immediate influence on market dynamics or considerably increase affordability until at least the first half of 2024.
As a result of these factors, we have significantly reduced our projection for house price growth. For the time being, the trend appears to be limited to a +2% to -2% range.
If you are ready to sell your property or interested in moving, one of our property professionals in the James Douglas team is here to help you.